Slated soon for publication from
Feral House
is my long awaited epic,
Caught In The Crossfire: Kerry Thornley, Oswald and the Garrison Investigation
, a topic I first broached ten years ago or so in
The Prankster and the Conspiracy
(
Amazon
).
Several years after the release of The Prankster, your humble reporter stumbled upon a wealth of new information related to Kerry Thornley and the Jim Garrison case which, in turn, led to an ever-deeper examination of this seemingly never-ending rabbit hole that encompassed such a large and troubling part of Kerry Thornley's life. (And mine, as well!)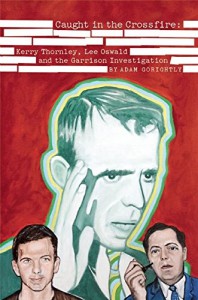 You can order an advanced copy of Caught In The Crossfire at Amazon and be the first one on your block to know the complete, mind-blowing story!
On a related note, I share with you now a Historia Discordia Exclusive snipped from Rev. Wyrdsli's seminal 1992 video interview with Thornley at A Cappella Books, wherein Kerry discusses many of the strange and intimate details that will further emerge, and be expanded upon, in Caught In The Crossfire.