I just received a beautiful new Brazilian version of
Principia Discordia
(a translation of the Loompanics edition plus some extra goodies tagged on at the end) courtesy of
Penumbra Livros
.
Of all the Principia Discordia knock-offs I've seen over the years, I would submit that this version stands out above all the rest, and if you're a Principia Discordia aficionado this version is certainly a gem to add to one's collection—whether you understand a lick of Portuguese or not.
I asked the Penumbra Livros publisher—a fellow named Vinicius—to tell story of how this PD came to be:
"It all started with a stolen Steve Jackson Principia Discordia. My wife stole it years ago from a former boyfriend and kept it in the bottom of a dusty old box. I have heard about PD before, but for me it was sort of like the Necronomicon—one of those books you hear a lot about, but possibly never existed, and there are some copies around, but none of them is the real thing. I decided to give it a read anyway. I decided that, real or not, it was profoundly disturbing, which is a good thing. So I went to look for a Portuguese edition, and discovered there were only some PDFs hanging around on the Internet. I took a look at them, and was deeply impressed by the effort the Discordian community (which, until that time, I assumed did not exist) took to translate it. But, having read the original version, I knew many jokes, word plays and puns in general were lost in translations. The idea to produce an "ultimate Brazilian version" clung to my head for a while, but I had other things to do. I did not work with books back then.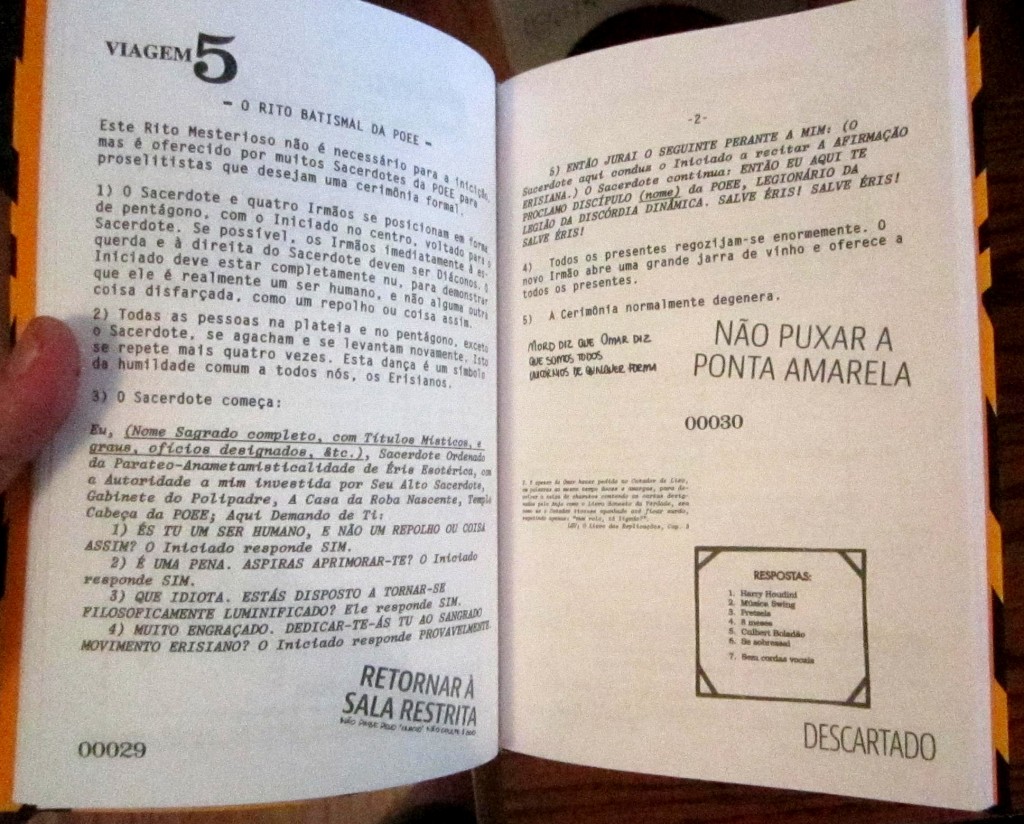 "Some time (years?) later, I was working with books about magic, occult, and stuff. I needed to publish some book about alternate religions, and considered The Gospel of the Flying Spaghetti Monster. But the thought of PD came back to my mind. It was going to be a lot of work, with all the images, and lack of high quality sources, and word plays, and it being a sacred text, and all. But I did not give up. My wife was studying Photoshop and all those graphic software packages, and needed to work on a series of fictitious assignments. So she made a King Kong saint image, a fake book cover, a fake flyer for a fake book launch, all that kind of thing for a Brazilian PD that did not exist. I made a little marketing research and found out there are some very active Discordian clusters in Brazil, and quite a few people who are generally curious about it. Which makes a lot of sense, because everyday life in Brazil is quite surreal at times, and some degree of Discordianism seems to be in everyone's blood, regardless of people knowing or not about it. That got me excited about making it happen. So I gave the PD a 'go.'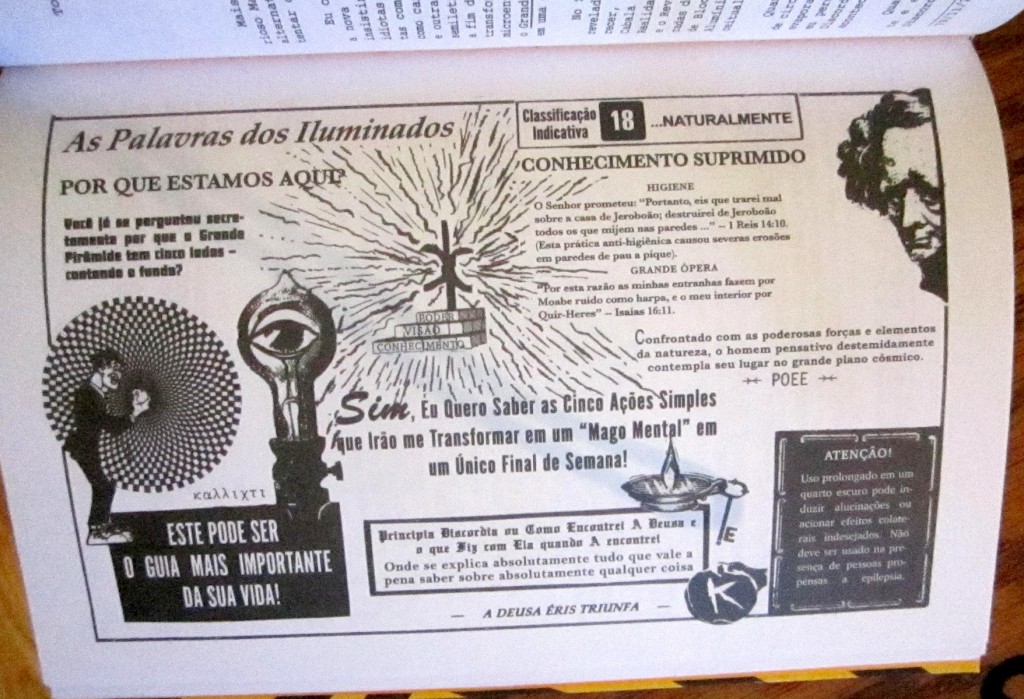 "Since every major edition of the PD adds some new pages to it (Loompanics/SJ/etc), and there are many active Discordians here, we decided to add some pages of original content. We opened up for public submissions. We got some shitty material, but in the end managed to filter out about 10 very good pages. We also made an effort to guarantee those new pages were not exactly in the spirit of the older PDs, but were representative of the current zeitgeist and the life we live in our country.

"The art adaptations were complicated, but feasible. But some translations were really tough. We looked a lot to other sources of information, such as Historia Discordia (and, of course, the Goddess) to find enlightenment. It came in most cases. In some cases, in which things were completely untranslatable, such as the thinking cow on p. 00028, we just threw a similar joke, which would make sense for the reader. The songs and rhymes were tricky too but I guess we made it without major casualties. The whole process, nevertheless, took a few months longer than originally predicted.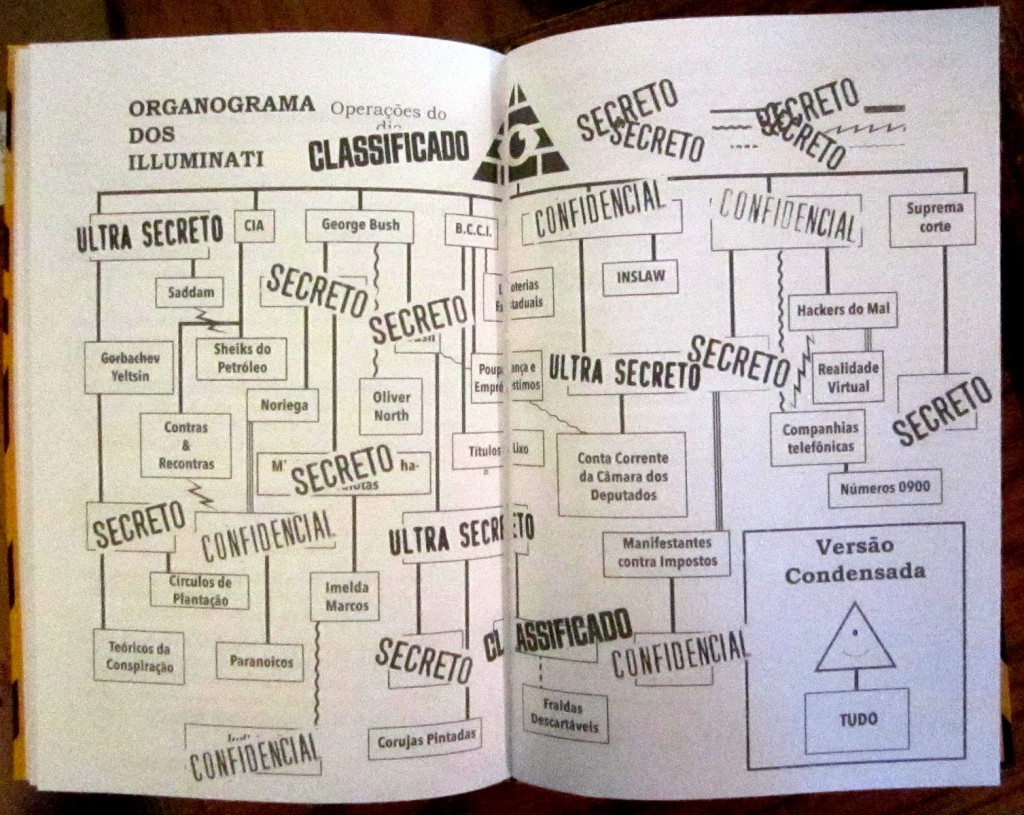 "When the book was sent to the printers, we had trouble making them understand page numbers were inverted (odd pages on the left, even pages on the right). We had to sign a document telling them they were not screwing up. The launch event was funny too. We picked a cool bar to do the event, and the owner of the place, knowing what the book was about, did not believe many people would come. In the end, the place was crowded, and the owner had to work in the kitchen, and had to call his father to help him (none of the employees were willing to show up on such a short notice on a Sunday). That was a good sign. And there were hot dogs for everyone.

"We received some curious orders via our e-commerce. One of them asked for a side order of a hot dog, a singing Rabbi and five tons of flax. Other asked for a 'no thanks.' Many orders contained cryptic messages about the Illuminati and Pelé (the soccer player).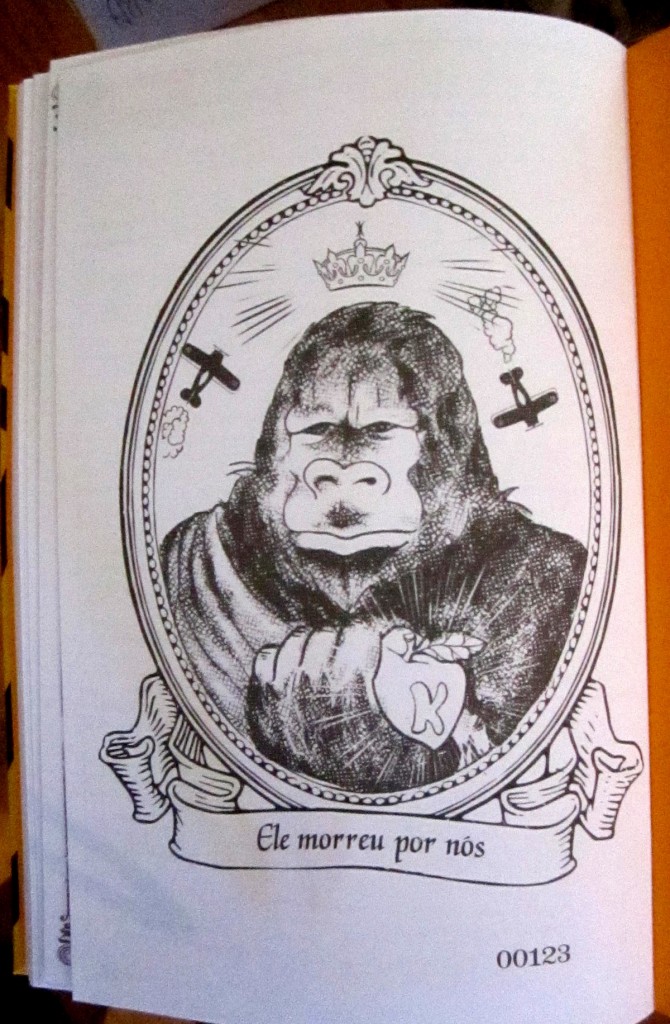 "Before the book hit the bookstores, we carefully hid some PDs on major bookstores and instructed our Facebook followers that the books were gifts for the first ones who could locate them and gather the courage to leave a bookstore with a new book out of the front door. Technically that is not stealing—we, the publishers, are giving the book away—but it certainly did mix people's feelings. All hidden books were found after about two days.

"Now PD is on all main Brazilian bookstores, and there is yet another funny thing about it. Shelf placement. Some bookstores place it on the Greek mythology shelf, some on comics, some on biographies, some on young adults, some on self-improvement, some on political sciences. And honestly, I have no idea where they should place it. Maybe it should be close to the Bible, the Quran, or the Torah. But on a higher shelf, closer to eye height. Who knows?"