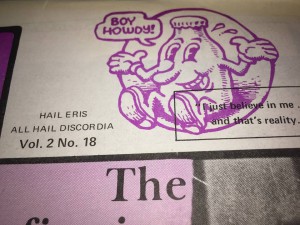 Back in my wayward youth—in my mid-teens in the mid-70s—when I was knee-deep into heavy metal bands like Blue Oyster, Black Sab, Deep Purp, Led Zep, et al., the go-to publications for me were
CREEM
and
Circus
magazines but not so much
Rolling Stone
which by this time had become increasingly slick and mainstream, oriented more towards California cool acts like Fleetwood Mac, The Eagles, etc.
Where Circus was pretty cheesy and sensational, CREEM stood out as a mag with a certain gonzo journalistic ethos ("Boy Howdy!") serving as stomping grounds for perhaps my favorite all time rock critic, none other than Lester Bangs whose reviews I didn't always agree with, yet his writing was always top-notch-in-your-face-tell-it-like-it-is brilliance of the gonzo variety—like a Hunter Thompson, so to speak, of rock criticism.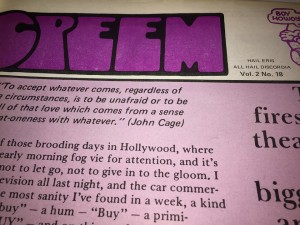 CREEM also featured book reviews, and as I recall it was through the mag that I first became acquainted with the works of Harlan Ellison, another deep influence on my writing.
However—until just a few days ago—I was unaware of CREEM's association with the Discordian Society, which was revealed to me by facebook friend George Sipple, who recently picked up a copy of the December 1970 issue of CREEM mainly for a Lester Bangs article and discovered "Hail Eris! All Hail Discordia!" on the inside cover page.